500MHz to 43.5 GHz band level detector(FPC-3000)
500MHz~43.5GHz带宽电平检测器(FPC-3000)
This RF detection unit detects 500MHz to 43.5GHz radio waves and converts them to DC voltage for simple inspection of 5G equipment development and manufacturing (mass production) lines. Up to 9 power detection units can be installed (expanded) and configured with the required number of units.
In the 5G equipment development and manufacturing stage, it is only necessary to measure that "radio waves are emitted" or "radio wave beams are being directed" from the equipment, and pass / fail without the need for expensive measuring instruments such as a spectrum analyzer or tester. Judgment (see next section) is possible. The converted voltage can be output simultaneously with a linearly changing analog output and a digital output that can be imported to a personal computer via USB.
这是面向5G检测用设备开发・制造(量产)生产线上做简易检测, 可检测电波频率为500MHz~43.5GHz,并将其转换为直流电输出的 RF检出装置。电力输出装置,最大可配备9个模块,可根据需要进 行选择组装。
在5G设备的开发、制造阶段,如果仅需要简易测量从设备发出 的「无线电波」或「电波波束的方向」的情况下,不需要使用频 谱仪,测试仪等高额的测量设备,即可判断合格与否(请查看下一 节)。 改变后的电压,可与线性变化的模拟输出和数字输出同时输出, 数字输出可通过USB连接到电脑上。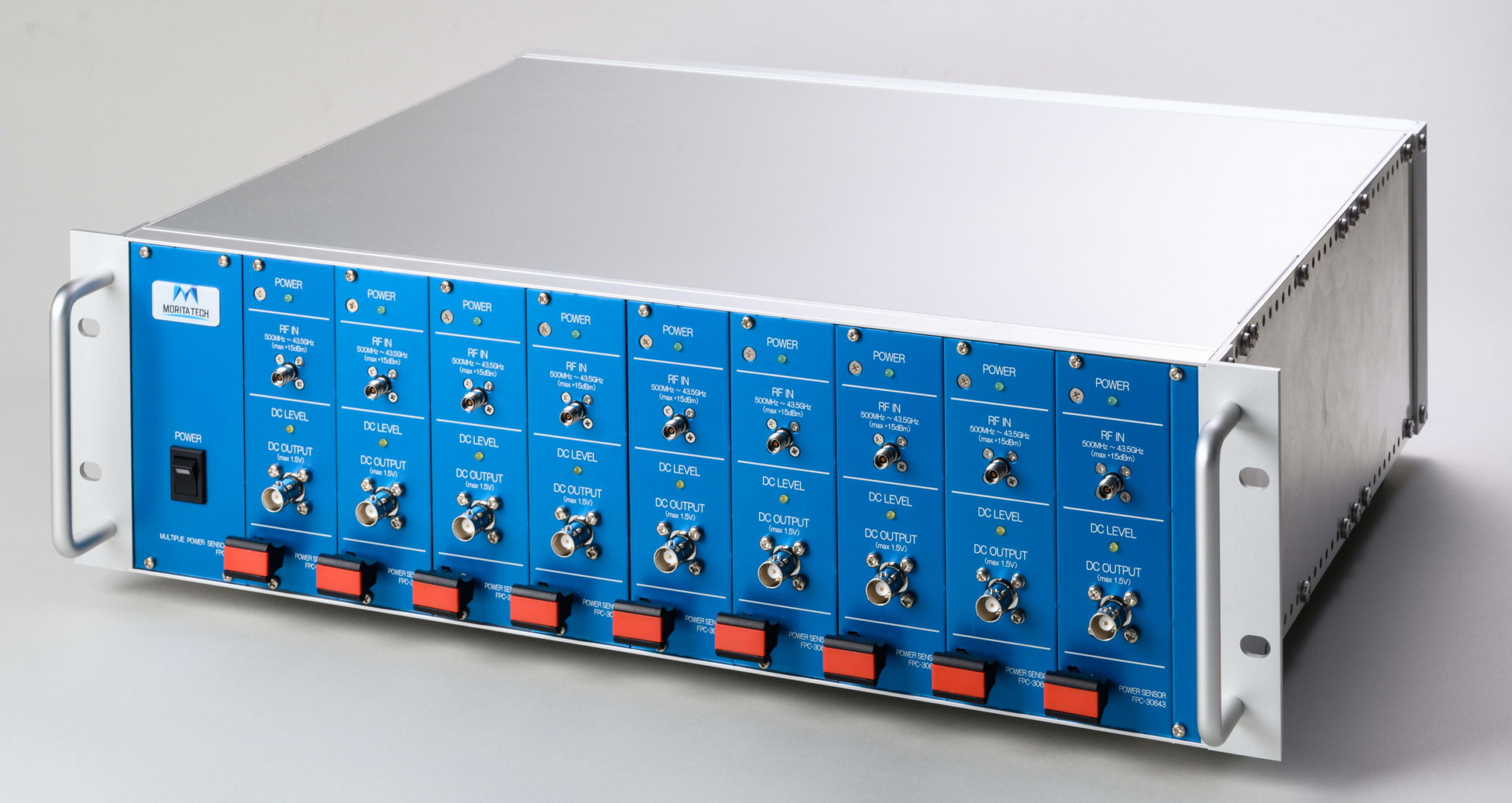 Chassis part
Maximum number of installed units
9 units
Minimum number of installed units
1 units
Applicable unit
FPC-30643 (500MHz – 43.5GHz)
OUTPUT Connector
USB(USB2.0)
Power-supply voltage
AC100V – AC240V 50/60Hz
Size
132.5(H) x 427.2(W) x 370.4(D) mm
Does not include rack mount bracket
Unit section
Frequency
FPC-30643
Dynamic range
500MHz – 43.5GHz
Conversion characteristics
30 dB or more
Conversion voltage characteristic
RMS power measurement
RF input maximum level
30mV/dB
INPUT Connector
2.92mm
OUTPUT Connector
BNC
Multi Connector for FPC-3000
Conversion output DC voltage
Max 1.5V
FPC-3000 utilization flow
FPC-3000使用流程
Reference examples of how to use FPC-3000 are shown in the power test and beam forming test.
Relative value evaluation method using FPC-3000 is dedicated to prototype model and mass production sample Dell. Use the terminal measured strictly by the measuring instrument as the reference terminal. Mass production started Before starting, each antenna coupler receives the radio waves transmitted from this reference terminal. The FPC-3000 controller uses software to convert the received power into voltage. Stored in master software and saved as master data to complete production preparations and mass production start.
Place the manufactured terminal in the measurement shield box (our FS-1905).
In power tests, radio waves are emitted from manufactured terminals and received by antenna couplers. The radio wave is converted to voltage by FPC-3000. FPC-3000 control during production preparation Compared with the master data voltage stored in the software, the preset voltage If it is within the range, it will be judged as "pass", and if it is outside the range, it will be judged as "fail". Simple measurement flow suitable for mass production.
In the beamforming test, the beam is controlled from a manufactured terminal in a specific direction. It emits radio waves. Received by all 9 antenna couplers of FPC-3000 Convert radio waves to voltage, and then come out of the antenna coupler in the intended direction If the received voltage is higher than the voltage from other antenna couplers, it is judged as "Pass" To do. FPC-3000 can realize a simple measurement flow suitable for mass production.
在电力测试、波束成形测试中给出了如何使用FPC-3000的参考案例。
使用了FPC-3000的相对值评估法,作为试制模型机和量产样机的专用测量器,由测量仪器严格测量的终端作为 参考终端。在量产开始前,每个天线耦合器接受从该参考终端发出的无线电波, FPC-3000控制器使用软件将 接受的无线电波转换为电压,存储在主控软件中,作为主控数据保存,以完成生产准备和启动量产。
将制造好的终端放在检测用屏蔽箱(例:我公司制的FS-1905)中。
在电力测试实验中,无线电波从生产的终端发出并被天线耦合器接收,并通过FPC-3000将无线电波转化成电压。 与生产准备时被保存在FPC-3000控制软件中的主控制数据进行比较,如果在事先设定的电压范围内就可判定为 合格,在设定的范围外的话就可判定为不合格。这就是适合量产现场的简易测量流程。
在波束成形测试实验中,从制造终端通过光束控制其沿特定方向发射光束。FPC-3000的9个模块的所有天线耦 合器接受的电波转化成电压,然后按预定方向从天线耦合器中发出,如果从目标方向天线耦合器发出的电压高 于其他方向的天线耦合器的电压数值时,就可判定为合格。 FPC-3000可以实现一个适合量产的简易测量流程。