President's Introduction
代表介绍
Osamu Morita
Oct. 1953 Born in Shinagawa-ku,Tokyo
Mar.1968 Graduated from Koyamadai High School
Mar.1978 Graduated from Electrical Major, Department of Science, Aoyama Gakuin University
Apr. 1978 Joined in Morita Electric Co.,Ltd.
Feb.1993 Resigned from Morita Electric Co.,Ltd.
Mar.1993 Established Morita Tech Co.,Ltd.
Became Representative Director until now
森田 治
1953年10月 出生于东京品川区
1968年 3月 毕业于东京都立小山台高等学校
1978年 3月 毕业于青山学院大学理工学部电气电子工学专业
1978年 4月 入职森田电机株式会社
1993年 2月 自森田电机株式会社离职
1993年 3月 创建森田科技株式会社
担任公司代表取缔役至今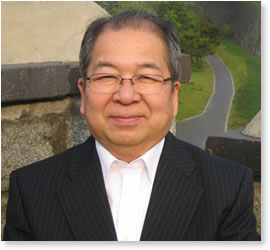 President's Message
社长寄语
Not all the companies in the world started an undertaking with a lofty ideal, at least I am not. To be honest, I started the company embarrassedly just want to earn a little bread after the bubble economy fell through. But I realized that I am very different from what I was in the past as a salaryman. I think it's our duty to complete the jobs perfectly that we had received from the customers hardly and always thinking the questions below when I am working. what should we do to please customers, what's the customers expect us to do? How should we do to achieve a surprising result that exceeded those expectations? And, whether we can do something earlier for the next job? Those changes happened to me.
We had celebrated the 20th anniversary of our company in March,2013. We are a small company, but the number of the employee increased a lot compares with when the company was established. And the thought that want to see the surprised and delighted faces of customers when the job completed beyond their expectation doesn't change at all. The only thing that changed is that not only me, but all the employees also think so.
It's obviously that the customers are important. But for me, the employees who value our customers are more important. In the same way, the cooperating companies who value our company are also very important. I will continue to work in my own thoughts like this.
Representative Director : Osamu Morita
我认为世上的公司并非全部秉持着崇高的理想开始创业的,至少我们公司不是。在泡沫经济破灭的混沌世道中,坦白的说,为了生活开始了现在的事业。然而,我可以清楚的感觉到现在的自己与当工薪阶层的时候的我的不同。人生阅历告诉我,认真完成从客户那边得到的工作是理所当然的,而现在的我,边工作边拼命的思考着,我怎么做客人才会满意,对我有何期待,怎样才能做出超出顾客期待的成果,还有有没有和接下来的工作想关联的工作。
 
1993年3月,托大家的福,我公司迎来了创业20周年纪念日。虽是小公司,但和创业初期比,员工数已经大幅增加了,但是,想看到因我们超预期完成工作时客户惊喜的脸的想法,至今没有发生改变。如果说有什么变了的话,那就是这不再是我一个人的想法,而是成为了公司所有
员工的想法。
 
毋容置疑,客户是珍贵的。但是对我而言,能好好对待客户的员工们,更加的珍贵。同样,能够好好珍视我公司的合作公司,也是非常珍贵的存在。我将一如既往的,按照自己的想法,努力工作下去。
代表取缔役:森田 治