We can provide you the most suitable and quality products customized in size, shape and specification, even if you want buy one. Kinds of customized shield box are in our product lineup, with the extra functions like hand-in function, temperature control function and so on.
  
森田科技的屏蔽箱无论是在尺寸、形状和接口面板的方面,都可进行全面的客制化生产,可根据客户的要求,1台起设计制造。此外,我公司亦提供具有诸如附加手入、温控等加功能的屏蔽箱。
One hand in type (MODEL: WM1019-0453H)
单手插入式(MODEL:WM1019-0453H)
It is possible to operate the communication terminals and the game consoles with communication function in the shield box easily through putting one hand into the shield box. The expected jigs and antennas also can be installed in the shield box. Because of the using of the transparent window made of electromagnetic shield material, we can operate while looking at the devices in the box.
Shield characteristics: above 60dB (at 2.5GHz、when visual window is closed)
手入式屏蔽箱可容纳移动通信终端和具有通信功能的游戏机等设备,并空手即可对他们进行测试,屏蔽箱内部也可以安装希望的夹具。因为安装有透明的目视用窗口,可以在查看内部机械的同时进行相关操作。
屏蔽特性:60dB以上(at 2.5GHz,目视用窗口关闭时)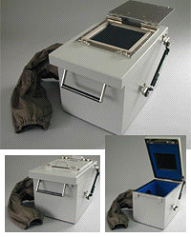 Hand in shield box (Two hands in type) (WM1019-04178H)
手入式屏蔽箱(双手插入式)(WM1019-04178H)
High performance hand-in shield box is a kind of hand-in type shield box with a 80dB shield characteristics, although put the wireless terminals, like phone、smartphone、tablet etc., in a strong electromagnetic environment, the non-signaled state can be realized. It is mainly suitable for mobile forensic and smart phone forensic.
It is also can be used in the OTA test because of the equipped jigs and antennas inside.
The high shield characteristic transparent visual window without metal mesh for electromagnetic shielding, with an excellent view, you can operate while looking at internal devices, and can be used in a function test.
And, put the Note PC and measuring instrument in the hand-in shield box in a chamber, the system can be operated in an environment that the RF signal and EMI noise are shut out
Shield characteristics: above 80dB
该款屏蔽箱为手入式屏蔽箱,具有80dB的良好屏蔽特性,即使将诸如手机、智能手机和平板的无线通信设备置于强电场的环境中,也可使设备达到【无信号】的状态。最适合被应用在移动设备取证和智能手机取证等用途上。因内部可安装夹具和天线等部件,所以也可完成OTA测试试验。
拥有较高屏蔽特性的透明电磁遮蔽目视窗,不使用电磁遮蔽用金属网,因此具有良好的视野,可在边观看无线终端设备画面的同时进行操作,可被应用在功能测试等试验中。并且,在电波暗室中,将笔记本电脑和量测仪表放入该款屏蔽箱中的话,可在RF信号和EMI干扰等被遮断的环境中进行使用。
屏蔽特性:80dB以上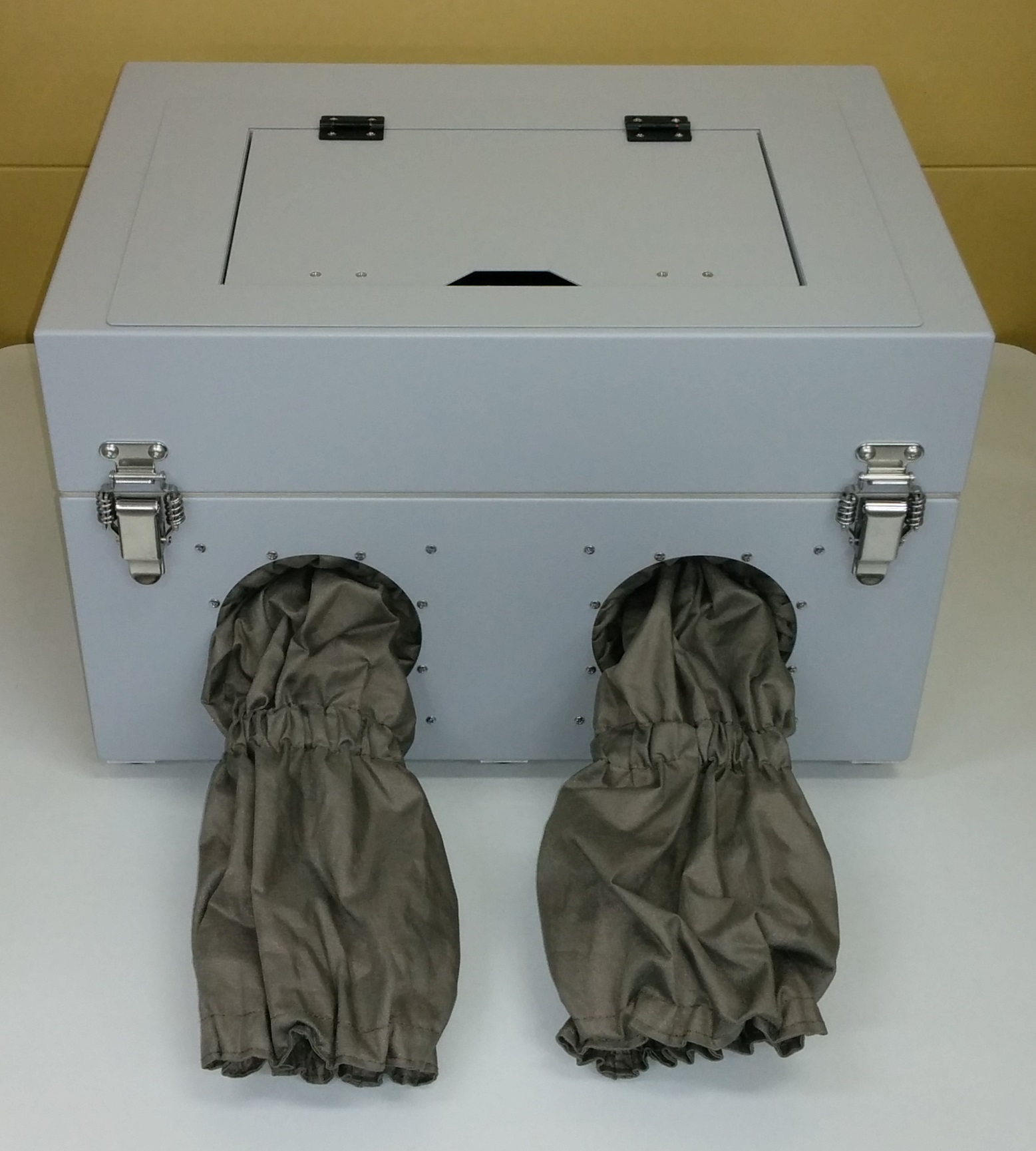 The shield box with automatic switch
自动开关式屏蔽箱
Because the opening and closing of the shield box can be automatic by controlled by the controlling PC, so it is possible to equip this on an automatic product line.
An auto-detecting system proposal includes analyzer is highly recommended because of all the shield box can be automatic.
 
因为可通过外接电脑实现对屏蔽箱开关的控制,因此可组装到自动化生产线上。
所有的屏蔽箱都可实现自动化的设计,可为您提供包含测量仪器在内的自动化检测系统。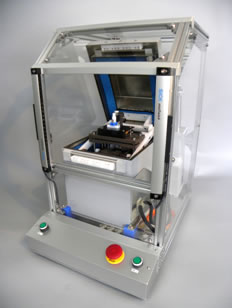 This shield box not only can shut the electromagnetic wave inside and outside of the box out, but also can reduce the reflection of the electromagnetic wave emitted from the antennas and wireless module inside of the box, and reappear the electromagnetic coupling environment which with a little better multi pass.
Difference from the chambers before, compact and light weight.
Easy to move because of the equipped casters
Fit for the target objects, the interface can be customized
No-appointment-needed, shorten the development time
Inter effective dimension:60cm(W)×60cm(D)×60cm(H)
Shield characteristics:60dB(at 6GHz)
Internal reflection absorption characteristics:20dB( at 400MHz) / 40dB (at 1GHz)
该款电波暗箱不仅可遮断电波暗箱内外的电磁波,也可抑制从放置于箱内的天线或无线模块辐射出的电磁波的反射,再现一个多路径性能略好的电磁波结合环境。
与之前的电波暗室不同,小型轻量
带车轮,易移动
适合被测物体,接口面板可客制化
电波暗室无需预约,实现开发期间的缩短
内部有效尺寸:60cm(W)×60cm(D)×60cm(H)
屏蔽特性:60dB(at 6GHz)
内部反射吸收特性:20dB( at 400MHz) / 40dB (at 1GHz)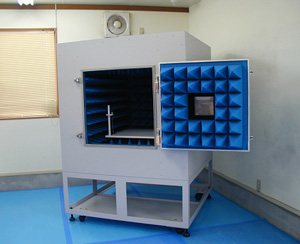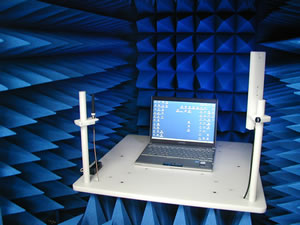 The most suitable way to evaluate and analyzer the vehicle instruments by using the large shield tent that's as big as a car.
2 people (4 people is advised) is enough to put up or pack the tent and the tent can be packed in the car trunk.
In addition to automotive applications, we also manufacture single-person tents to easily set up a test environment on the product line.
size:3m(W)×6m(D)×2.1m(H)
shield characteristic:About 30dB (at 1GHz)
可容纳普通汽车的尺寸,最适合车载设备的评价和分析。仅需2人(推荐4人),即可实现屏蔽帐篷的安装和撤收,在叠好的状态下,可放置于汽车的后备箱中。
除测试汽车的用途外,我公司可提供适用于生产线的,可实现简易测试环境的一人用屏蔽帐篷。
尺寸:3m(W)×6m(D)×2.1m(H)
屏蔽特性:约30dB(at 1GHz)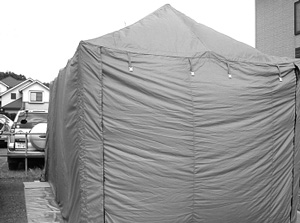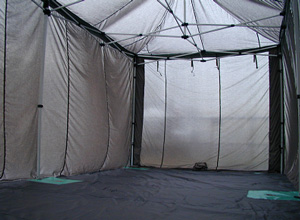 Shield box equipped jigs
内置夹具屏蔽箱
By equipping an inspection jig in the shield box can realize one action inspection.
In production line & inspection line, space saving and reduction of inspection time can be realized.
 
屏蔽箱内安装有检测用夹具,仅需一个操作即可完成检测。
之于生产线和检测线,都可实现空间的节省和时间的缩短。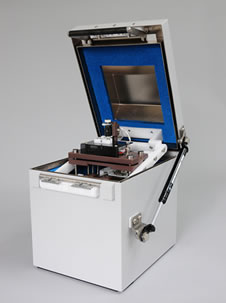 For module board inspection
模块基板测试用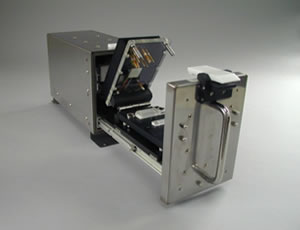 For board inspection(slide type)
模块基板测试用(滑动式)